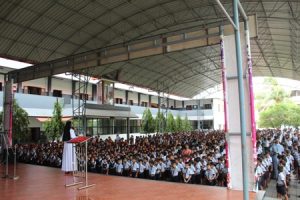 The School is situated in the district of kasaragod, 4kms away from head quarters of the district.
Jaimatha Senior Secondary School, started in 1994, is run by the Sisters of the Adoration of the Blessed Sacrament (S.A.B.S.). This religious congregation was founded in 1908 by the venerable Mar Thomas Kurialacherry the first Bishop of Changanacherry. We share in our faith vision of our founder by witnessing and bringing all, specially the children, under our care to the love and mercy of God.
The School admits boys and girls of all communities irrespective of caste or creed. Jaimatha School prepares children for the examination of the Central Board of Secondary Education. The academic year is from June to March.Our scholl strength is 1284 students(Boys-670,Girls-614).